12 Series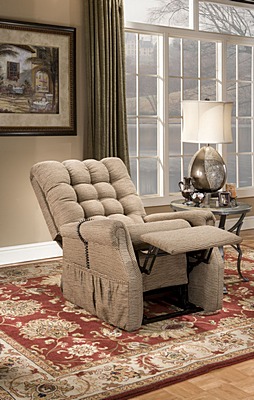 Models 1253/1255
The Med-Lift 12 series is our economy power lift and recline. Comes standard as a 2 position recline and Low Volt DC motor with battery backkup standard.. Arm & head covers come standard on these models.
Model Specs: 1255,1253
Overall Height 40"
Overall Width 32"
Back height from seat 27"
Width between arms 21"
Seat depth 21"
Seat height from floor 19"
Reclined height of footboard 21"
Reclined length, back of seat to end of footboard 41"
Note: Models numbers ending in 53 are with 3 way recline Models numbers ending in 55 are 2 way recline.
Warranty: Models 1255,1253 Life time warranty on lift mechanism, Three year warranty on all other components (DC low volt motors standard) with quick disconnect hand controls. Weight capacity 325 lbs
OPTIONS
3 position recline (Model 1253)
Fabric & Vinyl upgrades 2,3,4,5,6 (extra charges apply)
Head Pillow
Flat Rate In Home Setup Delivery Cost of $125.95

Sales Tax Applied if you are in Connecticut