Lightweight Canvas Ankle Brace
Item Number: 165
Flexible and soft, this canvas ankle brace provides medial/lateral support to injured or weak ankles but is light enough to wear during athletic activity. Extra stabilization is achieved with the removable medial/lateral inserts.
Features Include:
•Lace-up design allows for a more precise fitting support.
•Soft canvas that contours and cradles the ankle.
•Breathable and comfortable ankle brace.
Indications:
Recommended for stabilizing the ankle joint following cast removal or when severe sprains occur.
Suggested HCPCS Code: L1902 Sadmerc Letter
Sizing Chart: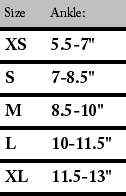 Flat Rate Shipping Cost of $6.95

Sales Tax Applied if you are in Connecticut