The TRAVelite comes with a versatile stand that allows vertical and horizontal positioning on a flat surface as well as shining up or down.

TRAVelte fits in a briefcase. A compact and versatile light box that will let you enjoy the light in a variety of situations. Use it in the office, at home, on a trip.

With the TRAVelite, you get 10,000 lux at 10-12 in. (25-30 cm) and need to use the unit for 20-30 minutes. Sitting at 18 in. (45 cm), the TRAVelite delivers 5,000 Lux of light, and we recommend that you use the lamp for about one hour each day, preferably first thing in the morning, sitting as in the photo. The treatment works through the eyes, but you do not need to look directly at the light.

The TRAVelite also comes with a 5 year warranty.
> All-metal quality construction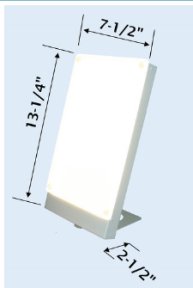 > Ultra compact
> CSA safety approved unit (Canadian Standards Association)
> Electronically powered - no flicker & no hum
> No UV & no magnetic field
> Less than 50 Watts power consumption
> Universal Power: 100-277 volts, 50/60 hz.
Tips: Use the light regularly at about the same time each day. Also try to spend
time outdoors during sunnyperiods. Eat sensibly, exercise and try to keep a regular
wake-sleep hours.
Flat Rate Shipping Cost of $14.95

Sales Tax Applied if you are in Connecticut