Item Number: 9
Elastic supports help improve stability by limiting abduction and adduction. An open toe with closed heel design, this ultra-light material is comfortable but still offers compressive support.
Features Include:
•Therapeutic support for weak or injured ankles.
•Comfortable elastic, durable protection.
•Fits left or right ankle.
Indications:
Recommended for mild ankle contusions, tendinitis and ankle swelling.
Suggested HCPCS Code: L1901
Sizing Chart: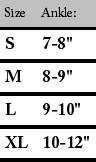 Flat Rate Shipping Cost of $6.95

Sales Tax Applied if you are in Connecticut