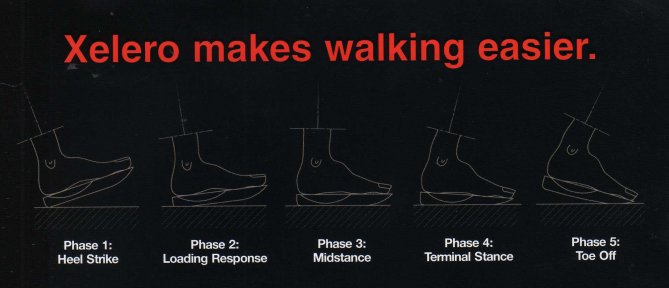 Xelero's patented Swiss Internal Rocker Technology provides the ultimate in motion control and stability. Xelero's is the perfect shoe for runner's suffering or recovering from Achilles tendonitis, calf or ankle stress, Morton's toe, hair-line fractures of the forefoot, metatarsal neuroma's, and other running overuse injuries. " Xelero makes running and walking easier"
Matrix Leather
Men's Walking
Style #: X84619

Xelero Helps:
Improve posture
Strengthen calf, hamstring and gluteus muscles
Reduce overuse symptoms and shin splints
Stretch plantar fascia for reduced pain and inflammation
Provide the ultimate stable platform for a running or walking shoe
All of this with no loss of balance that occurs with other rocker type shoes.
Available Sizes: Men's Medium/Wide/Extra Wide/XX Wide: 8-12, 13, 14
Technology
Upper - Soft leathers with Dri-Lex moisture wicking linings.
Footbed - Extra thick EVA footbed provides maximum comfort.
Custom Fit System - Removable insert to accommodate orthotics and to adjust the fit.
Absorption Element - The EVA element has a shock absorbing effect.
Midsole construction:
Control Plate - This plate adds additional control during accelerated heel-to- toe roll, causing a mild stiffening of the sole in the forefoot region, thus providing relief to the metatarsals.
Internal Rocker - The Internal Rocker is a convex EVA element with a greater degree of hardness than the midsole underneath it. This combination encourages the foot's heel-to-toe movement as a whole.
Foundation - The EVA-midsole supports the effect of the Internal Rocker. That together with the elevated forefoot ensures an accelerated heel-to-toe roll.
Gel Pads - Two gel pads in the forefoot and rearfoot provide comfortable shock absorption.
Outsole - High abrasion rubber provides durability and traction
Benefits
Xelero's patented midsole rocker construction provides the ultimate in motion control and stability.
This Swiss Technology allows the body's center of gravity to move more quickly through the normal gait cycle reducing pressure on the metatarsals and big toe. By accelerating this normal motion, less pressure is placed on any part of the foot, reducing pain, irritation and swelling.
The strong and resilient heel counter, coupled with the mid-sole control plate adds a mild stiffening of the sole during accelerated heel to toe roll.
Xelero's unique construction is the perfect shoe for runner's suffering or recovering from Achilles tendonitis, calf or ankle stress, Morton's toe, hair-line fractures of the forefoot, metatarsal neuroma's, and other running overuse injuries.
Xelero helps you maintain your training and fitness thru most nagging running related injuries. And, Xelero is perfect for older runners who lose most of their usual aches and pains after the first run in Xelero.
Free Shipping on all Xelero Rocksteady Shoes.

Sales Tax Applied if you are in N.Y.