Sports Compression Sock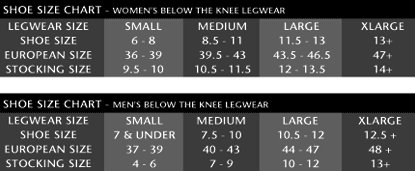 Ideal for active individuals, and for people who wear sneakers for their work.
Compression socks can help prevent fatigue and swelling, allowing you to realise superior performance. Improved circulation helps to invigorate your legs and prevent painful varicosity.
English
• Graduated compression aids blood circulation
• Supports leg muscles
• Comfortable soft knit
• Reciprocated heel pocket
• Comfortable fitting balloon toe
• Plush cushion sole
• Comfort non-restricting top band
• Superior "stay up performance"
Flat Rate Shipping Cost of $6.95

Sales Tax Applied if you are in Connecticut