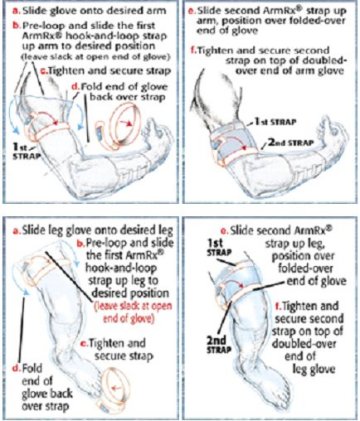 ArmRx products are patented innovative lightweight sleeves and/or leggings that provide totally effective and watertight protection. ArmRx protectors are suitable for use in the institutional care environment (i.e. hospitals and nursing homes) as well as by individual users in their own homes and during travel. ArmRx products are tried, tested, proven and used in hundreds of hospitals and care institutions and by thousands of private users across the United States and around the world.
ArmRx Arm and Leg Gloves improve hygiene and personal care without the risk of infections or moisture related delays in healing. ArmRx products help patients to "stay dry" at bath time, saving valuable resources and nursing time by cutting down the number of reapplications of otherwise damaged dressings, bandages and casts.

ArmRx Arm and Leg Gloves ensure that people enjoy the soothing comfort of bathing or invigorating showering without the stress and worry of wetting their bandages, jeopardizing the healing processes.
And most important - ArmRx Arm and Leg Gloves allow the freedom and the comfort of unrestricted personal hygiene without the loss of personal privacy.
ArmRx Arm and Leg Gloves are non-sterile clear polyethylene protectors that have been designed for convenient and safe patient applications in all possible situations - private residential, nursing care or clinical scenarios - at home or in care homes or in hospitals.
The ArmRx protective gloves and leggings are made in two versions - arm protectors and leg protectors. Each glove or legging is available in one universal size that is easily adjustable to the personal requirements of an individual user regardless of their height, body weight or respective lengths of their arms or legs. Each individual glove and legging can be fitted on to either the right or left relevant limb.
The ArmRx products offer the following benefits...
• Proven confident and reliable protection from water and / or moisture penetration.
• Enables & improves personal hygiene increasing the patient's sense of wellbeing
• Facilitates personal independence and preserves the privacy of personal care
• Reduces expense and inconvenience of replacing damaged dressings or casts
• Controls the risks associated with the wetting of wounds, lacerations or skin conditions
• Allows normal non-restricted limb mobility during use
• Enables therapeutic effects of bathing
• Convenient, easy to use, light and non-bulky
• Portable, easy to store and easy to dispose of
• Economical, inexpensive and affordable
• Environmentally friendly - ArmRx can be recycled or disposed of with normal waste
ArmRx Arm and Leg Gloves are made from environmentally friendly recyclable polyethylene. They are easy to store and do not require special disposal. They are light, neatly packaged and convenient for use any time and anywhere - in the hospital, at home or during travel.
#122429—Individual Leg Glove Packs
- sold in 20 pk Dispenser Box
Self dispensing counter top or shelf box contains 20 Individual Leg Glove packages. Each Individual Leg Glove package contains one ArmRx Leg Glove, 2 ArmRx hook and loop straps and complete instructions for installation and use.
Each single pack of ArmRx Leg Gloves consist of a single legging sleeve with 2 "hook and loop" straps that adjust the glove to the required size and fasten it securely on the limb, forming a watertight pocket that helps keep the user's leg completely dry even during total submersion in water.
Flat Rate Shipping Cost of $8.95

Sales Tax Applied if you are in Connecticut