The LaserTouchOne is revolutionizing alternative pain relief. Doctors, nurses and alternative healers have already seen how this break-through technology is capable and proven to accelerate the healing process of severe injuries and other causes of chronic pain. The relief provided by LaserTouchOne's cold laser and micro-current technology can be more effective than habit forming pain medications.
LaserTouchOne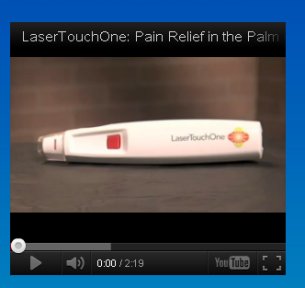 This combination of low level laser and micro-current electrical stimulation provides symptomatic relief of chronic, intractable pain, and is indicated for adjunctive treatment of post-surgical and post-traumatic acute pain and for adjunctive use in providing temporary relief of minor chronic pain of musculoskeletal origin.
What makes this device so effective is that it treats the source of the pain, not just the symptoms. Typically the treatment of pain is done by immobilizing and using heavy medications for numbing. Stimulating the damaged cells to promote re-growth and healing is frequently ignored. The effect of using the LaserTouchOne does just that. There are very few limits to what this device can provide to sufferers of chronic pain.
Whether you enjoy hiking, biking, running, tennis and racquetball, or any other activity that can lead to muscle pain, LaserTouchOne can keep you in the game.
Facts:
A clinical study demonstrated that the LaserTouchOne was 93 percent effective in decreasing pain in participants who received the full treatment regimen
Meets IRS requirements for tax deductibility as a medical expense
There are no cumbersome wires and electrodes, making it fast and easy to treat multiple areas in one session
Suitable for physician or personal use Hand-held, portable and ergonomically designed for easy and effective self-treatment without medication
Our patented system is FDA cleared for pain relief/management
Free Shipping on all LaserTouchOne Products.

Sales Tax Applied if you are in Connecticut