The Inogen One G2 System (IS-200):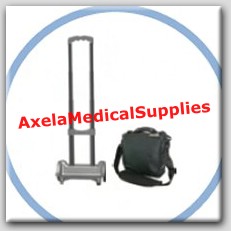 • 40% Smaller
• 25% Lighter
• 20% More Oxygen
• Authorized by FAA onboard aircraft
*Included with system
**Accessory sold separately
Purchase includes: Universal Power Supply, Cart & Carry Bag, Battery (12 cell or 24 cell determined at options section before purchase), and user manual.
Oxygen. Anytime. Anywhere
The new Inogen One G2 delivers the independence of our original Inogen One portable concentrator,
but it's smaller, lighter, and makes more oxygen with a longer battery life. It's a portable concentrator
small enough to hold in your hand. That means there are no tanks to refill and you never have to worry
about running out of oxygen.
The Inogen One G2 is your one solution, your single solution, for oxygen at home, away, and for travel
(approved for use on all US airlines). The Inogen One G2 is Oxygen. Anytime. Anywhere.
Weight 7.25 lbs. (includes 12 or 24-cell battery determined at options section before purchase)
Size Length: 10.7"
Width: 3.9"
Height: 9.5" (including handle)
Oxygen Flow Pulse dose delivery system
Five flow settings from 1-5
Power Sensing AC Power Supply 100-240V, 50-60Hz
(auto sensing to allow worldwide use)
DC Power: for mobile use in car/airplane
Battery Duration (12-cell battery): 3.5 to 4 hours*
Recharge approximately 4 hours with AC or DC power
Duration (24-cell battery): 7 to 8 hours*
Recharge approximately 8 hours with AC or DC power
Noise Level 38 Decibels*
Warranty 3 year limited warranty**
Operation Simple control functions and easy-to-read LCD display
Use Designed for stationary, portable, and travel
*At setting 2
**See Inogen One G2 Limited Warranty Statement for complete warranty information