Hernia Double Guard
Item Number: 85220
Provides comfortable, yet constant pressure to the hernia. Two uniquely shaped foam pads provide gradual pressure and support. It is woven for more durability and comfort with hook and loop for the perineal straps and offers a plush elastic waistband for better adjustability and comfort.
Features Include:
•Made of an elastic wraparound waistband with flexible posterior stays and soft leg straps.
•Removable hernia pads.
Indications:
For reducible inguinal hernias; Bell-Horn advises to use only under the supervision of your physician. Specific fitting instructions should also be supplied by a physician.
Sizing Chart: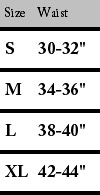 Flat Rate Shipping Cost of $6.95

Sales Tax Applied if you are in Connecticut