Swede-O Ankle Lok
Item Number: 81652-9 White / 81682-9 Black
Featuring the patented Ankle Lok system which keeps the brace tighter longer, this ankle brace is 30% lighter and 50% thinner than conventional lace-up ankle braces. A full elastic back and seamless arch virtually eliminate the chance for blistering and the "Figure 8" straps mimic an athletic trainer's taping pricedure.
Features Include:
•Patented Ankle Lok system keeps brace tighter longer.
•Heat-sealed arch reduces any irritation to the bottom of the foot.
•The #1 ankle brace with Certified Athletic Trainers.
Indications:
Recommended for stabilization of the ankle joint following sprains or after cast removal. Side stays provide additional support to help prevent inversion/eversion.
Sizing Chart: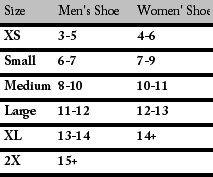 Flat Rate Shipping Cost of $6.95

Sales Tax Applied if you are in NY