ProStyle Calf Sleeve
Item Number: 233
Provides constant compression to both calf and shin areas. ProStyle material adds the soothing warmth of neoprene with a soft terry-cloth lining.
Features Include:
•Contoured design assures proper fit and compression.
•Compression to both calf and shin area.
•Our ProStyle Calf Sleeve provides a warming support to help keep muscles warm and loose.
Indications:
Designed to aid recovery of minor strains and shin splints.
Sizing Chart: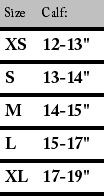 Flat Rate Shipping Cost of $6.95

Sales Tax Applied if you are in Connecticut