Tennis Elbow Support Strap
Item Number: 194
Provides comfortable, firm support to stiff or aching elbows. Has an easy to adjust hook and loop closure.
Features Include:
•Compression pad places pressure on the elbow tendons to help provide relief.
Indications:
This strap helps provide temporary relief of pain due to tendinitis or tennis elbow.
Sizing Chart: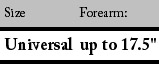 Flat Rate Shipping Cost of $6.95

Sales Tax Applied if you are in Connecticut