Denim Arm Sling
Item Number: 324
Over-sized cradle arm sling with contact closures to adjust the length of the envelope. An easy, fast and simple application with D-rings and Velcro-style closures.
Features Include:
•Provides support for mild sprains and strains.
•Made of soft yet sturdy denim material.
•Universally sized.
Indications:
Aids in the recovery from arm injuries or those who require post-surgery immobilization.
Sizing Chart: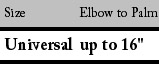 Flat Rate Shipping Cost of $6.95

Sales Tax Applied if you are in Connecticut