CrissCross Sacro-Lumbar Support
Item Number: 89183 - 89189/10
Recommended for relief of lower back pain. Helps stabilize lumbar, sacral, and abdominal muscles and ligaments thereby reducing stress on the lower spine.
Features Include:
•Criss Cross bands at back provide a broad area for low back support.
•6" wide overlapping elastic bands permit garment to fit a variety of figure types.
•Criss Cross Back features one-way stretch elastic with hook and loop closures.
•Due to material usage there is a slight price increase for the 3X size, please consult customer service when ordering this item.
Indications:
Ideal for support of abdominal muscles weakened from repeated surgery. Provides relief for muscle strains and sprains.
Sizing Chart: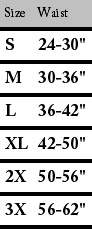 Flat Rate Shipping Cost of $6.95

Sales Tax Applied if you are in Connecticut