Clavicle Support
Item Number: 85002 - 85008
Designed to help keep shoulders back and limit clavicle movement during treatment of clavicular fractures.

Features Include:
•Foam padded shoulder straps for greater support.
•Large felt back panel for greater support.
•Four separate grip buckle adjustments provide an excellent fit and maintain even support.
Indications:
Recommended for managing clavicle fractures, scapular seperations and posture correction of stooped shoulders.
Sizing Chart: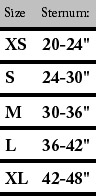 Flat Rate Shipping Cost of $8.95

Sales Tax Applied if you are in Connecticut