Whisper Knee Length Stockings 20-30 mmHg (Closed Toe)
Item Number: 20000-True Beige / 20001-Classic Bronze / 20002-Cocoa
With a compression of 20-30mmHg at the ankle, the Whisper Compression Stocking will keep your legs healthy and feeling great.
More like conventional hosiery than medical, Bell-Horn's Whisper Compression Stockings are designed to compliment your lifestyle; sheer enough to wear after work, yet have enough compression to prevent swelling and relieve tired legs.
Available in three different skin tone shades:
*Cocoa
*True Beige
*Classic Bronze
Features Include:
•Relieves tired aching legs.
•Ideal for chronic venous insufficiencies.
•Bell-Horn's "It Stays!" is an excellent way to keep stockings in place. Item # 10000
Indications:
Ideal for chronic venous insufficiencies, Post Sclerotherapy and Spider / Mild varicose legs.
Suggested HCPCS Code: A6530
Sizing Chart: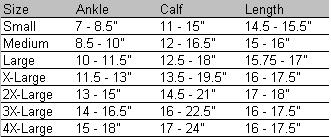 Flat Rate Shipping Cost of $6.95

Sales Tax Applied if you are in Connecticut