PRODUCT FEATURES
• Five Sizes to cover a wide range of patient sizes.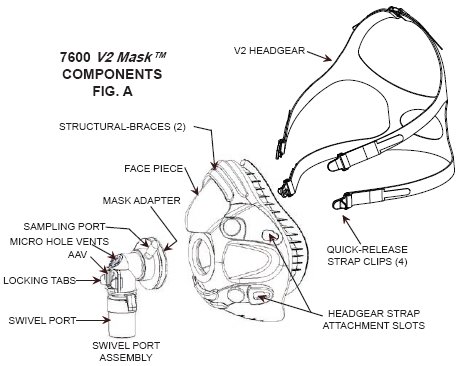 • Face Piece with new Facial Sealing Flange is a single piece mask, made of clear soft
Silicone Rubber.
• Anatomically Contoured Face Mask Design with ribbed support for a leak free comfortable fit.
• Anti-Asphyxia Valve (AAV) for patient safety - allows patient to breathe room air if the flow device malfunctions. Valve opens at mask pressures less than 3cm H2O.
• Swivel Port Micro Vent Holes dissipate CO2.
• 360° Dual Swivel Elbow Port with Detachable Swivel Port for improved patient freedom of movement. Color coded translucent blue.
• Easily adjustable, light weight, 4 strap Headgear for patient comfort, available in three sizes.
• New Quick-Release Strap Clips for quick & simple mounting & dismounting of headgear.
• Lightweight, easy to use, high quality mask & headgear.
• Reusable masks; steam autoclaveable, cold chemical, pastuerization safe & dishwasher
safe.
Important Tips
The Hans Rudolph 7600 Series V2 Full Face Mask runs approximately one size larger than a Respironics ComfortFull 2 or the ResMed Ultra Mirage Full Face mask.
In other words, typically a Hans Rudolph size Small would be approximately equal to a size Medium in a Respironics ComfortFull 2 or the ResMed Ultra Mirage Full Face mask.
You can download, print and then cut out the Hans Rudolph sizing gauge for this mask here:
Sizing Chart
GENERAL INFORMATION
• Intended Use: The Hans Rudolph 7600 V2 Mask series are reusable, multi-patient use,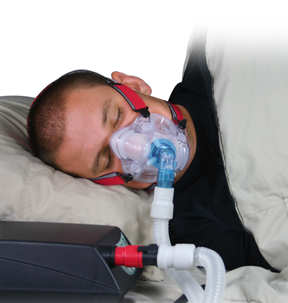 adult Oro-Nasal CPAPBiLevel mask which incorporates passive, continuous flow exhaust
ports built into the mask. It is intended for use with certain CPAP/BiLevel machines for
treatment of obstructive sleep apnea, and for use with other similar ventilators that use this
exhaust port confi guration providing a minimum of 3 cmH2O pressure measured at the
mask.
• Indications for Use: The V2 Mask are for use on adult patients (greater than 30 kilograms
weight) for treatment of Obstructive Sleep Apnea or any other conditions requiring
CPAP/BiLevel or non-invasive ventilatory support at pressures greater than or equal to 3.0
cmH2O at the mask in homes, hospitals and other clinical settings.
• Environment of Use: The V2 Masks™ are for use in homes, hospitals and other clinical
settings by individuals that have at least minimal instructions or training on the use of the
mask as well as the device to which the mask are intended to connect.
• Cautions:
a.) Federal law restricts this device to sale by or on the order of a physician.
b.) At low CPAP/BiLevel pressures the fl ow through the mask vent holes may be
inadequate to clear all exhaled gas from the tubing. Some rebreathing may occur.
c.) Patients with facial hair, especially beards, may experience mask leakage which
may require shaving the hair.
• Warnings: Refer t Instructions for Use, Document No. 691270, shipped with product.
• Contraindications & Complications: Refer t Instructions for Use, Document No.
691270, shipped with product
Free Shipping on all Hans Rudolph Products.

Sales Tax Applied if you are in Connecticut