SilverTecc Foot Beds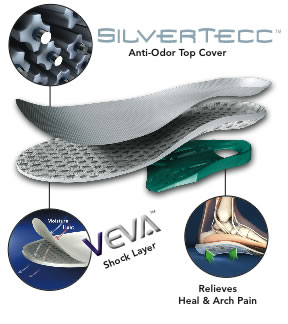 Using a next generation Nano-Silver yarn technology created by Samsung® Corporation, SilverTecc provides a superior combination of high silver ionic content and fiber delivery. This Nano-Silver Fabric delivery system is Anti-Microbial/Anti-Fungal while enhancing the physical properties of Comfort, Soft Surface, Low Friction and Durability. Unlike other silver materials, SilverTecc is designed so that there are no fibers that can tear or damage the skin.
•Full Anatomical Shapes Enhance Immediate Comfort, Balance and Control
- Available in 7 Styles with minimum to maximum support levels.
•Deep Heel Seat Helps with:
- Natural Shock Absorption
- Heel and Ankle Pain
- Maintaining Ankle and Knee Stability
•Full Arch Support and Control with some models
Firmest support with full control of the heel and arch
This is our firmest Arch shell with the most rear and midfoot control. Special arch 'peg' designs provides control while minimizing weight and bulk. Fit's into most footwear and is ideal for heavy use and sports applications.
Sizes Offered

XS Item #6274 ST
Small: Item #6275 ST
Medium: Item #6276 ST
Large: Item #6277 ST
XL: Item #6278 ST
XXL: Item #6279 ST
Flat Rate Shipping Cost of $6.95

Sales Tax Applied if you are in Connecticut