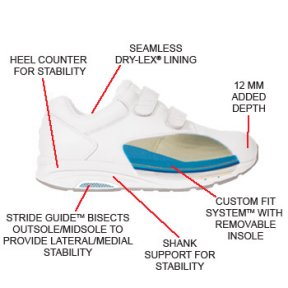 The Newport is the culmination of all things necessary for an active lifestyle. This attractive walker combines style and technology. This shoe boasts the finest full grain leather as well as InStride's 3-Layer Custom Fit System (CFS), allowing for the perfect fit for everyone. Whether you require a diabetic insert or you are a serious fitness walker who requires an orthotic device, the extra volume in this shoe will accommodate whatever you put in it. Built on a sturdy CMEVA midsole, the Newport promises to provide a stable platform for countless miles of walking.

Features / Benefits

•Genuine full grain leather upper
•Custom Fit System with 3 removable insoles
•Seamless inner design
•Compression Molded EVA midsole
•Slip resistant rubber outsole
•Stride Guide bisects outsole and midsole to provide
lateral and medial stability as well as shank support
•Sure Flex grooves in outsole allow for optimal flexibility
•Pre-molded counter for added stability in the heel area
•Meets Medicare Shoe Bill requirements

Available Sizes

Men's - Medium/Wide/Extra Wide 8 - 12, 13, 14;


Free Shipping on all In Stride Diabetic Shoes.

Sales Tax Applied if you are in N.Y.